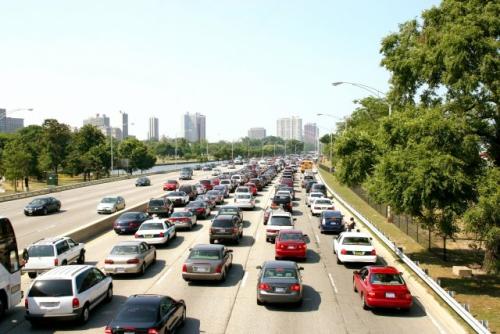 CalSPEC is currently supporting the California Assembly Natural Resources and Senate Environmental Quality Committees to produce a report on near-roadway indoor air pollution. Pollution inside homes, offices, and public spaces is of increasing concern for several reasons.  First, even in temperate regions like California, most people spend most of their time indoors. Second, the hazards associated with gas stoves, furniture, paints, solvents, and other fixtures of modern life are increasingly recognized. Third, any substance present in the outdoor air will ultimately make its way indoors; when residences or workplaces are located near roadways, the risk of indoor pollution is compounded. Because millions of Californians live, work, and go to school near major roadways and other transportation hubs, the state legislature has concerns about human exposure to traffic-related air pollutants, and is interested in strategies to mitigate near-roadway indoor air pollution. 
The CalSPEC report will summarize evidence on the following sub-topics: 
Composition and Prevalence of Near-Roadway Indoor Air Pollutants 
Health Effects of Near-Roadway Air Pollutants 
Mitigations Strategies to Reduce Near-Roadway Indoor Air Pollution 
CalSPEC welcomes public submission of scientific evidence regarding human health effects of near-roadway air pollutants and mitigation strategies intended to reduce near-roadway indoor air pollution. Please send your submissions by July 31, 2023 to CalSPEC@ucdavis.edu. 
Expected publication date: December 2023. 
2023 Research Team 
Composition and Prevalence Team 
Suzanne Paulson, PhD 
Professor, Department of Atmospheric and Oceanic Sciences  
Director, Center for Clean Air, Institute of the Environment and Sustainability 
Faculty Fellow, UCLA Institute of Transportation Studies 
Luskin Scholar 
University of California, Los Angeles 
Viraj Sawant, PhD candidate 
Graduate Teaching Fellow, Institute of the Environment and Sustainability      
University of California, Los Angeles
Health Effects Team 
Tracey Woodruff, PhD, MPH 
Alison S. Carlson Endowed Professor and Director, Program on Reproductive Health and the Environment (PRHE) 
Professor, UCSF Department of Obstetrics, Gynecology and Reproductive Services and the Phillip R. Lee Institute for Health Policy Studies 
Director, Environmental Research and Translation for Health (EaRTH) Center 
University of California, San Francisco 
Nick Chartres, PhD 
Adjunct Senior Lecturer, Sydney Pharmacy School 
Faculty of Medicine and Health, The University of Sydney 
Courtney Cooper, MPH 
Science Associate, Department of Obstetrics, Gynecology, and Reproductive Sciences 
University of California, San Francisco 
Emily Lasher, MSPH candidate 
Student Intern, Department of Obstetrics, Gynecology, and Reproductive Sciences 
University of California, San Francisco 
Mitigation Team 
Ling Jin, PhD 
Research Scientist, Sustainable Energy Systems Group & Transportation Initiative 
Energy Analysis and Environmental Impacts Division 
Lawrence Berkeley National Laboratory 
Madeline Sit, MPH candidate 
Graduate Student Research Assistant, Division of Environmental Health Sciences 
University of California, Berkeley