UC Merced - Summer 2011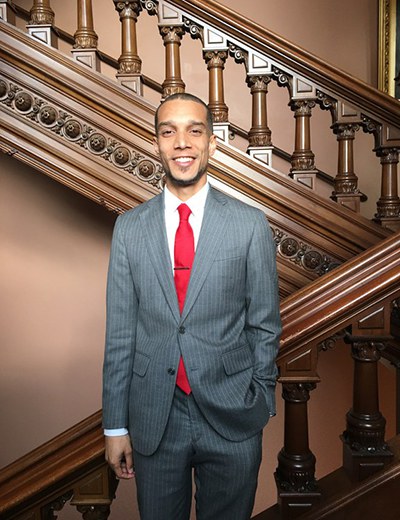 Legislative Director
Assemblywoman Blanca Rubio (D-Baldwin Park)
Campus:  UC Merced
Term:  Summer 2011
Internship:  Strategic Education Services
UCCS Program:  Public Policy
Major:  Political Science
Minor:  History
Advanced Degree:  MA in Government, CSU Sacramento
Hometown:  Sacramento
Current book:  "The American Republic: Primary Sources," edited by Bruce Frohnen
 _____________________________
For Taylor Woolfork, "career" was a straight shot from UC Center to the Legislature's staff. To secure his first job in "the Building," Taylor took advantage of two key factors: timing and opportunity. The timing came when then-Assemblywoman Cathleen Galgiani sought to hire a legislative aide just as Taylor completed the Center's 2011 summer program and graduated from UC Merced. The opportunity unfolded through connections he made during his UCCS internship with Strategic Education Services. Armed with a strong recommendation from his internship mentor, lobbyist Dale Shimasaki, Taylor landed the job in Galgiani's Capitol office.
He's been in Capitol ever since, following Galgiani to the Senate in 2012 before returning to the Assembly this year to work for Baldwin Park Democrat Blanca Rubio. Along the way, he migrated up the staff ladder from legislative aide to legislative director, first for Galgiani and now for Rubio. He also earned a Master's degree in Government from CSU-Sacramento.
As for long-term career goals, he plans to stay in the Capitol.
"I have a passion for public policy and politics," Taylor says of his career to date. "I plan to stick for as long as possible."
A main attraction in his work is his ability to meet people and learn about the myriad of issues that cross his desk. "I'm a generalist," he says. "And I pick up things quickly. That's what's so exciting about the Legislature. You address issues as they arise, no matter where it takes you."
Taylor credits his time at UC Center for providing him with hands-on training, and opportunity. "Getting your foot in the door is the hardest part about getting a job," he explains. "The [UCCS] program did that for me. Interning for a lobbying firm gave me the skills to understand the legislative process, and I was well mentored on conducting yourself professionally and how to think strategically."
He also says the program's combination of academics and internships was critical. "The academic component only takes you so far," he says. "But when you complement it by working in the field, you get a unique perspective, and that makes UCCS an extremely valuable experience."
For fun, Taylor stays physically active by playing in several recreational basketball leagues and taking advantage of the capital region's outdoor activities. He also spends time on "continuing education."
"If I'm going to be in this field," he says, "I want to read exactly what the founding fathers had in mind." Perhaps that's why his "leisure" read these days is "The American Republic," a collection of primary source documents such as "The Federalist Papers."