UC Berkeley Summer 2007 & Summer 2013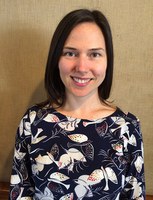 Legislative Coordinator
Covered California
Campus:  UC Berkeley
Term:  Summer 2007; Summer 2013
Internship:   2007, Planned Parenthood; 2013, Assembly Judiciary Committee
UCCS Program: Public Policy
Major:  English
Advanced Degree:  JD, King Hall, UC Davis
Hometown:  Sacramento
Current book:  "Call for the Dead" by John LeCarré
_____________________________
No UC Center student lingered around the premises quite so long as Kelly Bradfield. An English major with a yen for politics, she first arrived at UCCS for the 2007 summer program after completing her studies at UC Berkeley. With a few breaks here and intervals there, she did not finally leave the building until six years later.
"I always liked politics," Kelly says of her initial go-around at UCCS, "but I had no entrée to it. When I discovered UCCS, I jumped at it." That first summer, she interned with Planned Parenthood's state governmental relations office. "The UCCS program and my internship taught me how to build a career and what Sacramento was like and what kinds of careers might be available. The Center really opened doors."
One door that opened immediately was at the Center itself where, after completing the program, Kelly was hired by then-UCCS Director Gary Dymski as a policy associate. At the time, UCCS had launched several research projects designed to raise the Center's profile by engaging with state government on key issues, including wildfire management and international trade. Kelly performed research and helped organize conferences and panels to address those issues, remaining for two years before leaving for law school at UC Davis. Not content to sit idle in front of law books, Kelly helped pay for her studies as a fund-raiser and volunteer coordinator at the Children's Receiving Home of Sacramento, where she now serves on the Board of Directors as vice-president for programs.
Her time in law school also brought Kelly back for a return engagement at UC Center – not as an employee but as a student. In summer 2013, she again participated in the Center's policy program, this time to earn general undergraduate credits required for her law degree. Being a law student helped her secure a rare internship with the Assembly Judiciary Committee and its legendary chief counsel – Drew Liebert.
"It was a different vibe the second time around, but really significant," Kelly says. "I had clerked for a private law firm for a while, but returning to the Center got me an internship in the Capitol, with the Legislature, and that affirmed for me that I wanted to continue in the policy world."
Twice, then, UC Center provided Kelly the first steps to opening doors in public policy. "That's a real value at UC Center," she says. "The program allows you to explore."
Kelly currently uses her legal and policy training as a legislative coordinator and analyst at Covered California, the state's arm of the national Affordable Care Act. As a result, she is hip deep in issues she briefly touched during her first internship with Planned Parenthood more than a decade ago. "I'm enjoying my engagement with health policy," she says. "I'm learning all I can about it and plan to stay here as long as I can."
Perhaps the Center's current track on health-care policy, initiated and taught by UCCS Director Dr. Richard Kravitz, will entice Kelly back for a third stint in the policy program.