UC Berkeley - Summer 2015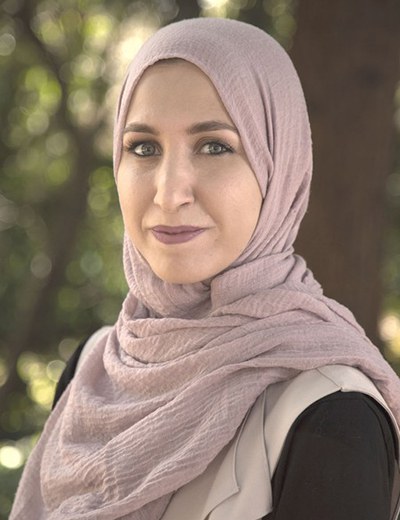 Masters' Degree candidate (2018)
University of California Berkeley Graduate School of Journalism
Campus:  UC Davis
Term:  Summer 2015
Internship:  Capitol Weekly
UCCS Program:  Journalism
Major:  International Relations
Minor:  Communications and Middle East-Southeast Asia Studies
Hometown:  Elk Grove
Current book:  "Orientalism" by Edward Said
  _____________________________
When Sawsan Morrar arrived for the start of UC Center's 2015 summer journalism program, she was an accomplished freelance writer nearly a decade removed from her academic career. But Sawsan wanted more than the uncertainties inherent in freelance work. She sought a bona fide career in journalism, and that goal meant a return to academia. UCCS was the first step – and the gateway.
From that point forward, Sawsan's steps were giant strides: admission to UC Berkeley's Graduate School of Journalism; a 2017 White House Correspondents Association Scholar; a grant and fellowship from the Pulitzer Center for Crisis Reporting; a Washington Post assignment that led to cover stories on the Stephon Clark shooting and aftermath in her native Sacramento; and commencement speaker at the Graduate School's 2018 graduation.
"Journalism is unique in that networking is so important and instrumental," she says. "UC Center provided that for me. It gave me a foot in the door at Berkeley and gave me an advantage in practicing political reporting and meeting reporters in Sacramento."
Despite the distractions and pitfalls that come with a career in modern journalism, Sawsan is committed to it. "I absolutely want to stay in journalism," she says and credits Berkeley with the training and connections necessary to pursue that career. "What I love most about reporting is that, every day, your story is different. It's not the same grind every day. You meet new people, in new circumstances, every day."
Her Masters' thesis highlights this diversity. A group project, the reporting focuses on inequality in Fresno across a variety of issues, from immigration and education to policing, bail reform and environmental justice. It's put together and delivered using techniques of "new media" – writing, photography, audio and video.
In 2017, a funding grant from the Pulitzer Center for Crisis Reporting allowed Sawsan to travel to Jordan to report on the lack of resources available to Syrian refugees for mental-health therapy. She presented her findings during a conference at the Bloomberg Center in Washington, D.C.
It was also in the nation's Capital that Sawsan called attention – on a national stage – to challenges that she and other Muslim women face as journalists. Awarded a White House Correspondents Association scholarship in 2017, Sawsan was recognized during the association's annual White House Correspondents' Dinner, an event famously boycotted by President Donald Trump. The irony was not lost on Sawsan.
When she took the stage to accept the award, Sawsan wrote in an opinion piece published in The Washington Post, "… they won't see my portfolio of work and likely will forget my name. But they're sure to notice and remember one thing about me: my headscarf."
"Muslims," she continued, "don't have the luxury of being a fusion of their achievements, interests and uniqueness. Rather, in the eyes of others, we are only Muslim."
As she begins the next phase of her journalistic career, Sawsan says she would like to continue the kind of international reporting she has experienced in Jordan and Malaysia but that her main interest is political reporting – closer to home.
"Stories from Jordan are similar to stories in California," she explains. "A lot of refugees here are struggling both economically and emotionally. These same stories exist in our back yard."
  _____________________________
Note: Sawsan Morrar recently joined to Sacramento Bee as their school accountability reporter. See article here.