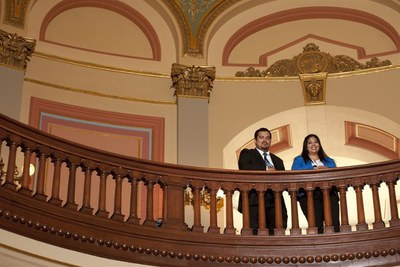 Notice: In the mist of Covid-19, the UCCS courses and internships will be offered remotely.
An experiential internship is the most important component of the UC Center public policy program. To this end, UC Center faculty and staff work closely with students to ensure that internship placements meet the goals and interests of each student.
Nearly every policy issue may be explored through an internship: K-12 education, higher education, health care, civil rights, agriculture, water resources, environment and environmental justice, criminal law, public safety, poverty, immigration, corporate, technology, privacy, animal rights, small business, taxation, international trade, U.S.-Mexico relations, Second Amendment rights, political reform, foster care and other children's services, energy, child abuse, women's rights, legislative reform, local government, veterans affairs and fiscal reform – to name but a few.
LEARN ABOUT THE PLACEMENT PROCESS AND INTERNSHIP VENUES BELOW:
The Placement Process
Internships in Business
Internships at the Capitol
Internships in Education
Internships in Environmental Policy
Internships in Healthcare
Internships in International Affairs
Internships in Law
Internships in Local Government