UCLA - Spring 2015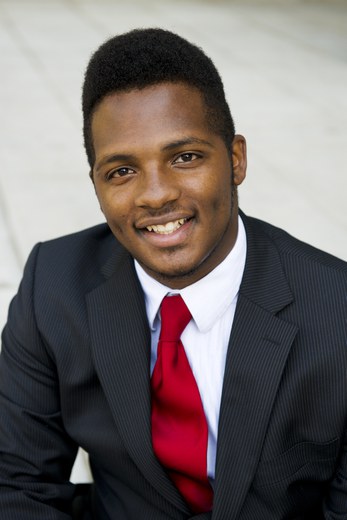 Assistant Director of Constituent Services
City Councilman William "Cruz" Shaw
City of San Antonio, Texas
Campus:  UCLA
UCCS Program:  Public Policy
Term:  Spring 2015
Internship:  Sacramento Mayor Kevin Johnson; Stand Up for Great Schools
Major:  Ethnic Studies
Minors:  Education and Public Policy
Hometown:  Fresno
Current reading:  "Seven Habits of Effective People" by Steven Covey; "Becoming" by Michelle Obama
     _________________________________________
Sydell Brooks wants to make a difference, to have an impact – not merely to hold a job.
His long-range focus is education; specifically, education policy. "I want to serve black and brown communities and have some say in the political sphere, and over funding for those communities. My overall goal is to work as an education superintendent for a large school district."
That doesn't mean that Sydell wants to be an administrator. "I want to focus on policy rather than administration, working to provide more resources for communities." To that end, he eventually plans to seek an MA in education policy.
Sydell's first dipped into the world of education as part of the Teach for America Program, where he spent 2017 as a classroom teacher in his adopted home of San Antonio, Texas. A life-long Californian, Sydell relocated to San Antonio after graduating from UCLA and studying for a year in Brazil. He was drawn to Texas by family who had moved there from the East Coast.
His work in a classroom gained experience but did not lead to an obvious next step on the road to a career in education. Instead, Sydell detoured onto a different path – local politics – where he became a constituent-services representative for San Antonio City Councilman William "Cruz" Shaw III. Sydell's role on Cruz' staff in some ways mirrored his experience as a UC Center intern with then-Sacramento Mayor Kevin Johnson. There, too, he helped connect an elected official with constituents while working for Johnson's "Stand Up for Great Schools" program.
"Working with the councilman is teaching me a lot about local politics," he explained, "but it also allows me to make a lot of connections with people. I'm building an experience base that will be invaluable."
Sydell credits UC Center with the grounding necessary to move forward in his job. "I learned a lot about building relationships" at UC Center, he said. "The Center put me in an environment where I learned how to advocate for myself and seek out the connections and mentors that help you reach a bigger goal."
He also learned fundamental skills he uses every day in his work, especially analysis and creating policy memos. "At the time," he said of his quarter in Sacramento, "it felt like any other assignment. But now, I'm expected to know how to do that stuff, and the Center prepared me for this life – even though I didn't realize it."
"The Center was the first step on what will be a long journey," he said of his decision to enroll at UCCS. "And it takes courage to make that step." In Sacramento, he added, "You go to another place, where you don't know anyone, into an environment that's also unknown. But once I took that step, the Center provided me with a lot of support and guidance, and set the tone for my career path."