UCLA - Summer 2016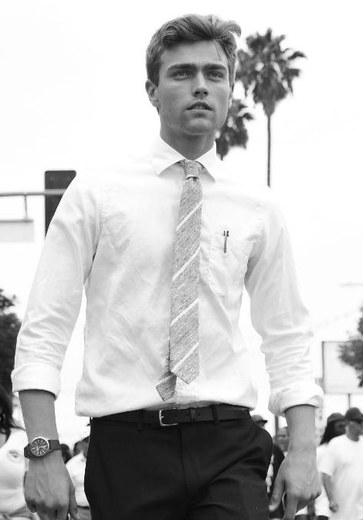 Press Secretary
Kevin de Leon for U.S. Senate
Los Angeles
Campus:  UCLA
Term:  2016, Summer
UCCS Program:  Public Policy
Internship:  Governor Jerry Brown, Office of Constituent Services
Major:  History
Minor:  Russian
Hometown:  Washington, D.C.
Current reading:  "Restless" by William Boyd; "Master of the Senate" by Robert Caro
____________________________________________________
In June 2018, Jack Price donned a sash and graduated from UCLA.
It's amazing that he found a spare moment to walk because, at the time, Jack was already in the thick of a surprisingly heated contest for the United States Senate: that of former State Senate pro Tem Kevin de Leon and incumbent Democrat Dianne Feinstein.
Jack Price was the de Leon campaign press secretary.
"It was an immersive experience," Jack recalled. "I started out as a press aide, drafting fact sheets, press releases and statements. I was bumped up to creating talking points and pitching reporters on interviews. I attended those interviews and prepped the candidate and found staging locations."
Jack traces his campaign post directly to his stint at UC Center; in particular, an assignment to conduct an "informational interview" with someone in the Capitol. Jack interviewed Anthony Reyes; at the time, the then-pro Tem de Leon's communications director. He and Reyes became friends, and when the de Leon campaign sought "someone in communications" for its Los Angeles headquarters, Jack got the call.
"UCCS helped me prepare for this," he said. "I learned the basics of research design, how to ask questions and pester people as part of my research project. You have to be able to ask pertinent questions, like why a decision is made and how to make the best possible decisions. UCCS assignments like that informational interview refined my courage and my ability to ask questions."
Most significant, Jack said he learned, at UCCS and during the campaign, that in politics "information is the currency of the realm. If you're willing to ask, people are willing to oblige."
During his sophomore year, a UCLA counselor pointed Jack toward Sacramento, and UCCS.
Although his education in public affairs began at the Center, it continued – with intensity – when he joined the de Leon campaign. "I had to do a lot of jobs, like catering for reporters at events. I learned that whatever job you're given, you have to do it with intensity. The campaign might depend on it, and you never know what detail might make a difference. The pace was also helpful to me in terms of working as a professional. My skills, especially writing, improved. I had to write constantly, every day – policy statements, responses." (The reference to improved writing is ironic, given that Jack's father is S.L. Price – a reporter for Sports Illustrated and one of the more gifted sportswriters in America.)
And the next campaign?
Whoa, hold on.
"I don't want to think about politics for a few months," he laughed.
The de Leon gig was Jack's first plunge into political campaigns and communications, and although he considers it an invaluable experience, he admitted that it was too soon after the election to know if he wants to work for another campaign or consider a career in communications.
At the moment, Jack is unemployed, gratefully so after months of a 24/7 schedule.
"My career goals are hard to pin down," he said. "My experiences on the campaign gave me more questions than answers. I definitely want to do something service-oriented. Foreign policy and defense have a special interest, but I don't have a more concrete idea."
For now, Jack is heading east, back to Washington with a stop-over in Chicago to visit his sister.
And, after participating in an historic political campaign, immersion in his favorite pastime – reading historical fiction.