UC Santa Cruz - Summer 2006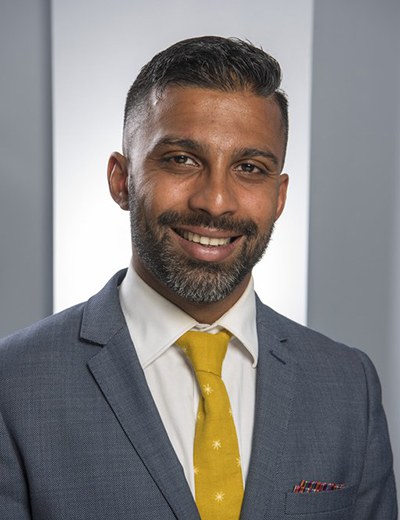 Senior Manager, Government Relations
Postmates, Inc.
Campus:  UC Santa Cruz
Term:  Summer 2006
Internship:   California Research Bureau
UCCS Program: Public Policy
Majors:  Philosophy and Politics
Advanced Degree:  JD, McGeorge School of Law
Hometown:  Cupertino
Current book:  "The Power" by Naomi Alderman
_____________________________
An incident that occurred during high school set Vignesh Ganapathy on the route he travels today. Two close friends were incarcerated and, at the time, that seminal event nearly derailed Vignesh's future. By the time he got his life on track, he was determined to devote his energies to criminal-justice reform and issues involving troubled youth – passions that since have informed his work. He enrolled at UC Santa Cruz, for instance, "because Angela Davis was a professor there" – a reference to the 1960s activist-turned-educator renowned for her research on prisons and punishment.
Vignesh enrolled at UC Center to help lend direction to his career after graduation. "I knew I wanted to help make lasting policy changes that make people's lives better," he explains. "At the Center, I learned a significant amount about the structure of government and the dynamic between people and institutions. You don't fully understand it unless you're exposed to it from within."
After graduation, Vignesh darted through a number of positions and studies to gain both experience and credentials, focusing on politics. He worked on habeas corpus reform for the ACLU of Northern California, Kamala Harris' 2010 run for state attorney general and Eric Garcetti's successful 2013 campaign for mayor of Los Angeles. He did policy research for the Governor's Office of Planning and Research and tort-reform advocacy for the Civil Justice Association of California. He worked on scientific regulatory policy at the state level in California, Florida and Missouri, and at the federal level, representing an organization that advocates for patients who suffer from rare diseases. Along the way, he earned a JD from McGeorge School of Law in Sacramento.
But Vignesh's activity prior to 2016 was prelude and preparation for his next role. Deeply affected by the outcome of the 2016 presidential election, Vignesh decided to return to the American Civil Liberties Union, joining an affiliate that "needed the most help." That decision took him to Kansas where politicians such as former Governor Sam Brownback and Secretary of State Kris Kobach took a deep "red state" to the extremes of modern conservative policy – the polar opposite philosophy from that of the progressive ACLU. As head of the government relations department, Vignesh was in charge of any action that interacts with elected officials.
"This is my dream job," he said at the time. "Before I joined the staff, the ACLU here had a bare bones staff. I think we've made a lasting legislative impact in Kansas, especially in the area of civil-asset forfeiture reform. And we have several other major accomplishments that should happen [in 2018]."
Vignesh's desire to return to California caused him to leave ACLU-Kansas in June 2018. His new post still involves government, but in the private sector as manager of the government relations section at Postmates, a logistics company headquartered in San Francisco. In his spare time rock, Vignesh enjoys climbing, taking short trips on his motorcycle and attending music concerts – "punk rock shows," he says.
As with many UCCS alumni, Vignesh says his time at the Center "shaped my career. It changed my life." Looking back, one key from his time in Sacramento was exposure to students from different backgrounds and who had different stories. That, he says, taught him a life-lesson especially important to his current work – "to respectfully work together, even if we disagreed."