UC Riverside - Spring 2016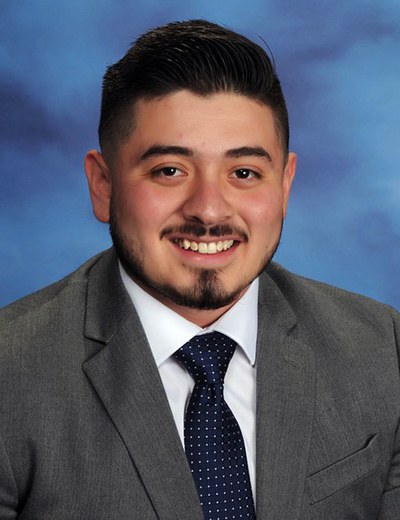 Director, Community Relations, California Alliance for Renewable Energy Solutions
Trustee (appointed), Coachella Unified School District
Campus:  UC Riverside
Term:  Spring 2016
Internship:  Assemblyman Eduardo Garcia (D-Coachella)
UCCS Program:  Public Policy (California Endowment Health Justice Scholar)
Major:  Political Science
Minor:  Labor Studies
Hometown:  Oasis
 _____________________________
Less than two years after graduating from UC Riverside, Neftali Galarza is a public official. In fact, he may be the first UCCS alumnus to hold public office. In November 2017, Neftali was appointed to the Coachella Valley Unified School District Board of Trustees, replacing an elected member who had been forced to resign. As an appointee, Neftali serves in the nonpartisan office until the next election, when he must run for the post on his own. His campaign already is underway, however, with that election set for November.
Neftali's path from student to public official began at UCCS where, as a California Endowment Health Justice Scholar, he focused on issues related to a health-care district while an intern in the Capitol office of his local assemblyman, Democrat Eduardo Garcia of Coachella. Connections made during that spring quarter helped Neftali secure work in Garcia's district after graduation, first as a field organizer for the Southwest Voter Registration Project, then as program coordinator for the Council of Mexican Federation and currently as director of community outreach for the California Alliance for Renewable Energy Solutions. More important to his public role, his internship gave him a deeper awareness of health and education issues in the Riverside and Imperial County region where he grew up and which he now serves.
"Working for Garcia," Neftali says, "helped me understand the needs of constituents out here. It helped me learn how to listen to the community and assess its needs. When the Alliance was looking for someone down here, Garcia's district director recommended me. That was because of my internship."
He also credits contacts made through his time at UCCS for securing his first job with the Voter Project where he registered voters and managed get-out-the-vote efforts.
Long-term, Neftali envisions a role in policymaking, either as an elected official, consultant or in the private sector, perhaps in Sacramento. His goal, which harkens back to his California Endowment scholarship, is to "create policy that would make for healthier communities through education." Currently, Neftali enjoys working toward that goal as a school trustee where he has the "chance to give back to my community."
"I'm grateful for my Sacramento experience," he says. "It gave me the skill set I wouldn't have gained anywhere else."