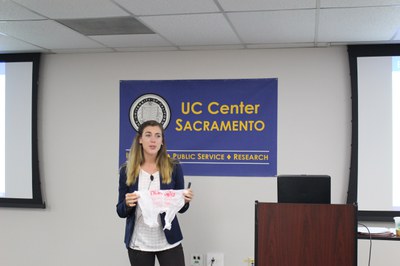 Emerging Scholars Award for Excellence in
Research and Public Policy
The UC Center Sacramento announces its seventh annual Emerging Scholars Award for Excellence in Research and Public Policy. The award will recognize excellence in graduate student research with a direct impact on public policy. The recipients of the Emerging Scholars Award will receive a $750 prize and will deliver an invited policy lecture at the UC Center.
The deadline to apply is June 16, 2022.
Application can be found here.
2021- Emerging Scholars Award Winners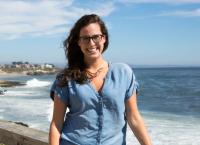 Melissa R. Cronin (UC Santa Cruz) is a PhD candidate in the Conservation Action Lab. She examines policies related to shark and ray bycatch (unintentional capture across five Regional Fisheries Management Organizations (tRFMOs).  The goal of her work is to understand the extent and regulatory strength of bycatch policy, and to identify policy gaps and opportunities in tRFMOs for shark and ray conservation. Her results indicate that there are 45 active policies that address shark and ray bycatch, and that the vast majority of them (80%) are unlikely to avoid or minimize the likelihood of shark and ray capture.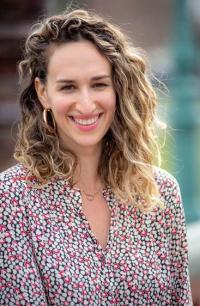 Zoe Guttman (UCLA) received her PhD in Neuroscience and is currently a Science & Technology Policy Fellow with the California Council on Science & Technology. She argues that green spaces are associated with enhanced physiological and mental well-being of residents; a reduction in crime, aggression, and violence; improve social cohesion, mental acuity, and resilience in children and adolescents; and shade, cooling, and eliminate pollutants from the air. She urges municipal governments to consider the evidence in favor of green spaces and direct funding to enhancing green spaces in desolate and low-income neighborhoods.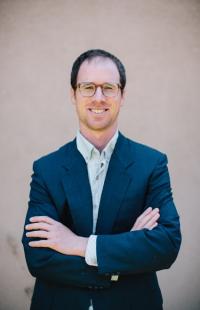 Samuel Trachtman (UC Berkeley) is currently a postdoctoral fellow for the American Political Economy Project. His work explores the diffusion of rooftop solar policies across states. He shows how solar installer firms from states with solar-friendly policies can leverage their success to influence policy in other states. 
Past Winners and Honorable Mentions 
Winner (2020) 
Kristin Dobbin, University of California, Davis-Department of Ecology
Honorable Mentions (2020)
Magiana Petersen-Rockney, University of California, Berkeley- Department of Environmental Science, Policy, and Management 
Matt Unrath, University of California, Berkeley-Goldman School of Public Policy 
Maysen Yen, University of California,Irvine-Department of Economics 
Winner (2019) 
Zachary Bleemer, University of California, Berkeley-Department of Economics 
Winners (2018)
Brittany Bass, University of California, Irvine - Department of Economics
Jacob Kirksey, University of California, Santa Barbara - Department of Education 
Honorable Mentions (2018)
Adam Fine, University of California, Irvine  - Department of Psychology and Social Behavior
Tessa Provins, University of California, Merced - Department of Political Science 
Zachary Bleemer, University of California, Berkeley  - Department of Economics
Matt Barno, University of California, Irvine - Department of Criminology, Law, and Society 
Winners (2017)
Dallas Augustine, University of California, Irvine - Department of Criminology, Law, and Society
Jay Plasman, University of California, Santa Barbara - Department of Education
Honorable Mentions (2017)
Michel Grosz, University of California - Davis - Department of Economics
Rylan Simpson, University of California, Irvine - Department of Criminology, Law, & Society
Winners (2016)
Rebecca Taylor, University of California, Berkeley - Agricultural & Resource Economics
Anne Brown, University of California, Los Angeles - Department of Urban Planning
Honorable Mentions (2016)
Matt Lesenyie, University of California, Davis - Department of Political Science
Raul Tadle, University of California, Santa Cruz - Department of Economics
Natalie Pifer, University of California, Irvine – Department of Criminology, Law and Society
Winners (2015)
Ann Hollingshead, University of California, Berkeley - Goldman School of Public Policy
Cameron Sublett, University of California, Santa Barbara - Gevirtz Graduate School of Education